Why Fall is the Best Time to Plant 🍁
Spring -- brimming with fair temps and fresh blooms -- is often viewed as the best time to plant.
But creating a beautiful, thriving landscape can start much sooner. Fall, the season of gorgeous colors and crisp blue skies, is actually an ideal time to plant. This is especially true if you live in the South (or Zones 7 and 8) where winter and cold snaps come much later in the year.  
Here are five top reasons why fall is the best time to plant (and tips for helping your fall garden flourish).
1. Shrub and tree roots benefit from moderate temperatures.
Allow your shrubs and trees to firmly settle their root systems this fall. 
When planting in the spring, the ground is still cool from the winter temperatures. Shrub and tree roots benefit from warmer soil temps of around 55 to 75 degrees F in the fall. 
Instead of blooms and leaves, these plants exert more energy to develop strong roots in the soil as the daytime temperatures drop. They then can flourish more in the spring and summer before temps become hot and dry.
For shrubs and perennials, make sure to consider the first autumn freeze. Frost dates for Georgia typically range from October 24-April 2.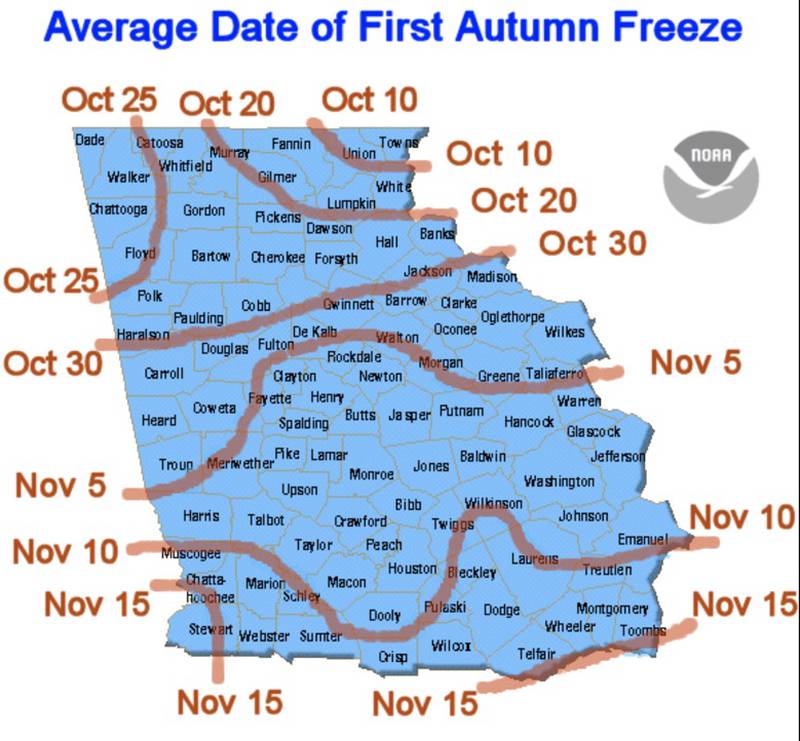 Map of Georgia showing regions and historical autumn freeze dates.
Although the window might be longer, it's best to plant shrubs and perennials at least six weeks before the first potential autumn freeze.
For trees, the best time to transplant is between November and March since they are dormant during this period.
Planting tip: Dig a hole around 12-18 inches to plant your shrub or tree (avoid digging holes that are too deep). For bare root shrubs and trees, dig the hole a little wider so roots can grow outward. For container options, dig a hole three- to four-times wider than the root container.
Insulate your plants by adding around three inches of mulch over the top soil. Water regularly and ensure your landscape plants receive one inch of water a week.
2. It's easier to spot planting gaps.
As leaves fall and plants go dormant, fall presents a better opportunity to spy gaps and bare spots between plants. 
It's also the ideal time to picture how you want your landscape to look in the spring. Get the prep work done now. Perhaps perennials would make a particular section of your backyard more colorful. Or maybe trees would offer necessary shade on one side of your home.
Whatever the case, plant shrubs, flowers, and trees to match your vision. Here are a few of our favorite options to plant now and create the perfect spring garden:
Use the cooler weather (and hopefully lack of mosquitos!) during the day to make progress before winter arrives.
Planting tip: Start by cleaning up your garden to make gaps easier to see. For example, remove dead limbs and cut back diseased perennials (don't remove all dead leaves from beds though - your plants and pollinators benefit from the debris). 
Take note of places that are visually bare. If you have a perennial garden, consider adding annuals to fill in gaps. 
At ServeScape, you can also work with our amazing design team of landscape architects to bring your dream landscape to life. 
3. Pollinators benefit from early blooms. 
Provide birds, bees, butterflies, and other pollinators with autumn and early spring nectar. 
Not only do pollinators benefit your garden, they also help surrounding farms. According to the USDA, more than 150 food crops in the U.S. depend on pollinators, including almost all fruit and grain crops.
When your fall garden is prepped for spring, pollinators don't have to struggle to find sustenance. They also have safe places with the plants and debris to hide during the winter and lay eggs. 
Creating a pollinator paradise isn't difficult (and will liven up your landscape). There are many native pollinator options to plant in the fall in Georgia including 
With these options, pollinators will stand a better chance of surviving the fall and winter - and be ready to emerge in the spring. 
Planting tips: Consider planting the above options in your fall garden. Types of shrubs and trees are also beneficial to pollinators including red maples, southern sugar maple, and bottlebrush buckeye. Check out UGA's Selecting Trees and Shrubs as Resources for Pollinators for more ideas.
4. Save money on plants. 
Not only is fall planting good for your landscape, it's also good for your wallet. As winter approaches, nurseries are reducing inventory, as well as making room for winter plants. This means lower price tags and end-of-season sales. 
Nursery plants will also be potentially bigger as they've had time to grow and flourish in their containers, giving you more bang for your buck. Plant discounts are normally highest between late September through October. 
Planting tip: To get affordable, as well as quality plants, check out ServeScape's selection of over 1,000 Georgia Grown plants from local growers and plant nurseries of Atlanta. 
Plants are delivered within one week of ordering - straight to your door! And since we go directly through growers, you get better plants at a better price. 
5. Fall offers a stress-free environment to divide and transplant perennials.
The cooler, crisp weather in fall provides the perfect opportunity to divide your perennials. And some perennials (e.g. Siberian irises) can only be divided in the fall so it's a win-win. 
To tell if your perennials need dividing, check if the plants exhibit any signs of the following 
Smaller than normal blooms

Dead centers with growth on outer edges

Aggressively taking over garden

Exhibiting brown foliage 
Planting Tip: Begin dividing and transplanting perennials as early in the fall as you can (at least by the end of October). This gives perennials time to establish their roots before the first freeze.
Use a flat spade and, choosing the healthiest plants, dig up and immediately transplant to another part of your landscape. Discard dead sections. Add mulch and water to the newly divided perennials.
Make the most of your autumn landscape
Use fall as the perfect opportunity to design and plant a beautiful landscape -- and so that it's ready for upcoming seasons!
Visit www.ServeScape.com to envision, design, and grow a beautiful and resilient landscape supplied by local farmers.
---